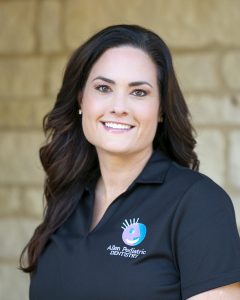 Jessie Hunter, DDS 
Dr. Hunter is certified by the American Board of Pediatric Dentistry. A Board-Certified Pediatric Dentist has successfully completed accredited training and a voluntary examination process designed to continually validate the knowledge, skills, and experience requisite to the delivery of quality patient care.
Dr. Hunter was raised in Oklahoma and attended Oklahoma State University for her undergraduate studies. She received her dental degree (D.D.S.) from the University of Oklahoma Dental School and her pediatric dentistry training from Louisiana State University.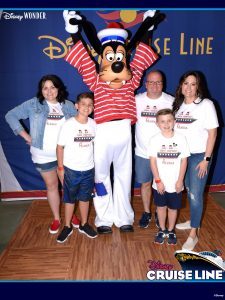 She is a member of the Texas Dental Association, Texas Academy of Pediatric Dentistry, American Dental Association, American Academy of Pediatric Dentistry, and Southwestern Society of Pediatric Dentistry. She has been practicing in Allen since 2005. Dr. Hunter lives in Frisco with her husband, Brandon, and three children, Haidyn, Austin, and Dylan.
---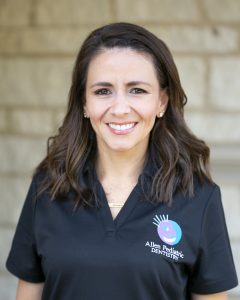 Karen Coe, DDS
Dr. Coe is a Board Certified Pediatric Dentist. She completed her undergraduate studies at San Tomas University in Colombia, South America, before completing three post-graduate residency programs at Miami Valley Hospital of Ohio. During the next four years, she joined the Ohio State University dental program and completed a General Practice Residency.
During one of these years, she was Chief Resident, and during two of these years, she completed a Pediatric Dental Fellowship at the Nationwide Children's Hospital.
Dr. Karen Coe completed her Pediatric Dentistry residency program in Massachusetts with Lutheran Medical Center of New York. She is a member of the American Academy of Pediatric Dentistry, American Dental Association, and Texas Dental Association. Dr. Coe lives in McKinney with her husband, Josh, their two daughters, Kamila and Klarisa. She enjoys dancing, traveling, and cooking with her husband and family.
Dr. Coe is currently seeing patients on Mondays and Tuesdays.
---
Meet Our Team
Our pediatric dentists in Allen, Texas, absolutely love working with kids, as do the members of our wonderful dental team. We always strive to help children have a fun, happy experience at Allen Pediatric Dentistry by providing excellent customer service and kid-friendly amenities. Learn more about our team members by reading the biographies below.
Lori, Office Manager  (RDA)
Lori joined our team as an office manager in December 2013.  She has been in dentistry since June of 2000.  If you have any concerns with our office, no matter how small, she would love to help you with anything you may need.
On the weekends, Lori enjoys spending time with her husband and their two adorable children; Sallie and Sterling. 
---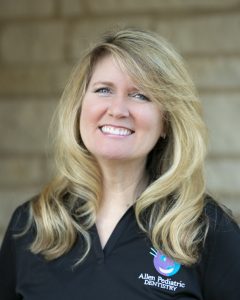 Katrina, Patient Coordinator  (RDA)
When Katrina joined our team in 1998, she was already a seasoned veteran in the dental field. Not only is Katrina in charge of coordinating our busy office schedule and accommodating our patients' scheduling needs, but she is also a registered dental assistant with certifications in CPR, nitrous oxide, radiology, infection control and coronal polishing.
Katrina and her husband have two daughters, Danielle and Dayna. Away from the office, she likes to travel (especially to Las Vegas) and spend time with her family and close friends.
---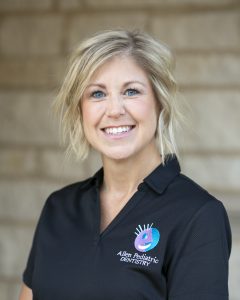 Stacy, Accounts Receivable (RDA)
Stacy has been a member of our office for over 15 years!  After working in the back office for many years she is now in charge of our accounts receivable department. Stacy is always happy to answer any questions you have regarding finances.  She is also RDA and CPR certified and still lends a hand in the back when we need her.
Stacy and her husband, John, have been married since 1999, and together have three children, Marissa, Johnny, and Anthony.
---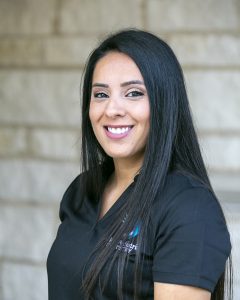 Angie, Insurance Coordinator 
Angie has been in dentistry since 2004.  If you ever have any requests, please let her know and she would love to help make your experience in our office a great one.
Angie resides in Wylie with her family and 3 dogs Sparticus, Pandora and Tequila. 
---
Brianna, Front Desk (RDA) 
Brianna graduated from Dental Assitant Institute in Garland, Texas in 2013. She began her dental career in oral surgery but got into pediatrics as fast as she could. She loves greeting our patients and their families as soon as they walk through the door. If you ever have any requests, please let her know and she would love to help make your experience in our office a great one!
When she is not in our office , Brianna can be found on the baseball fields with her children Tatum and Tanner. She is also an avid Dallas Cowboys fan!